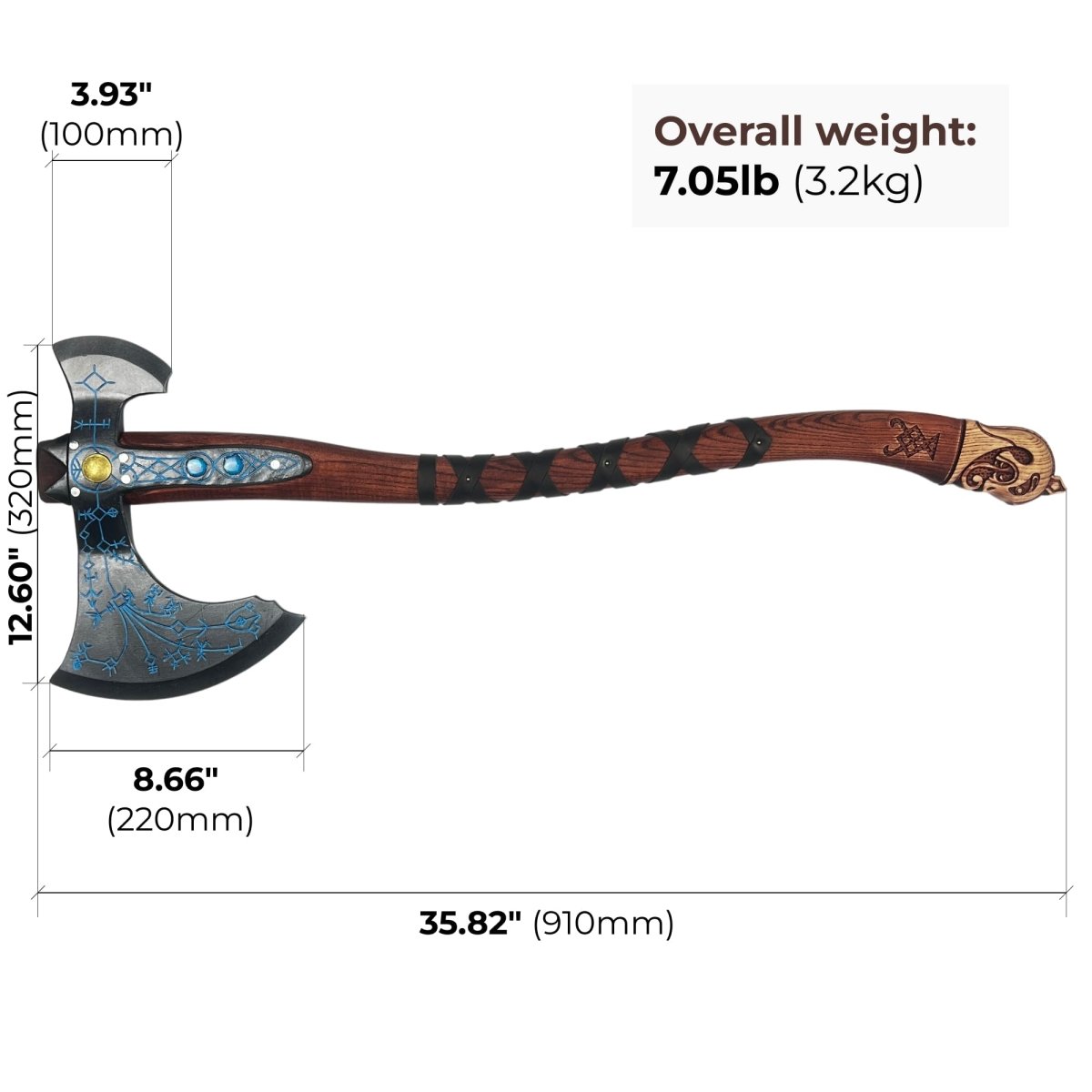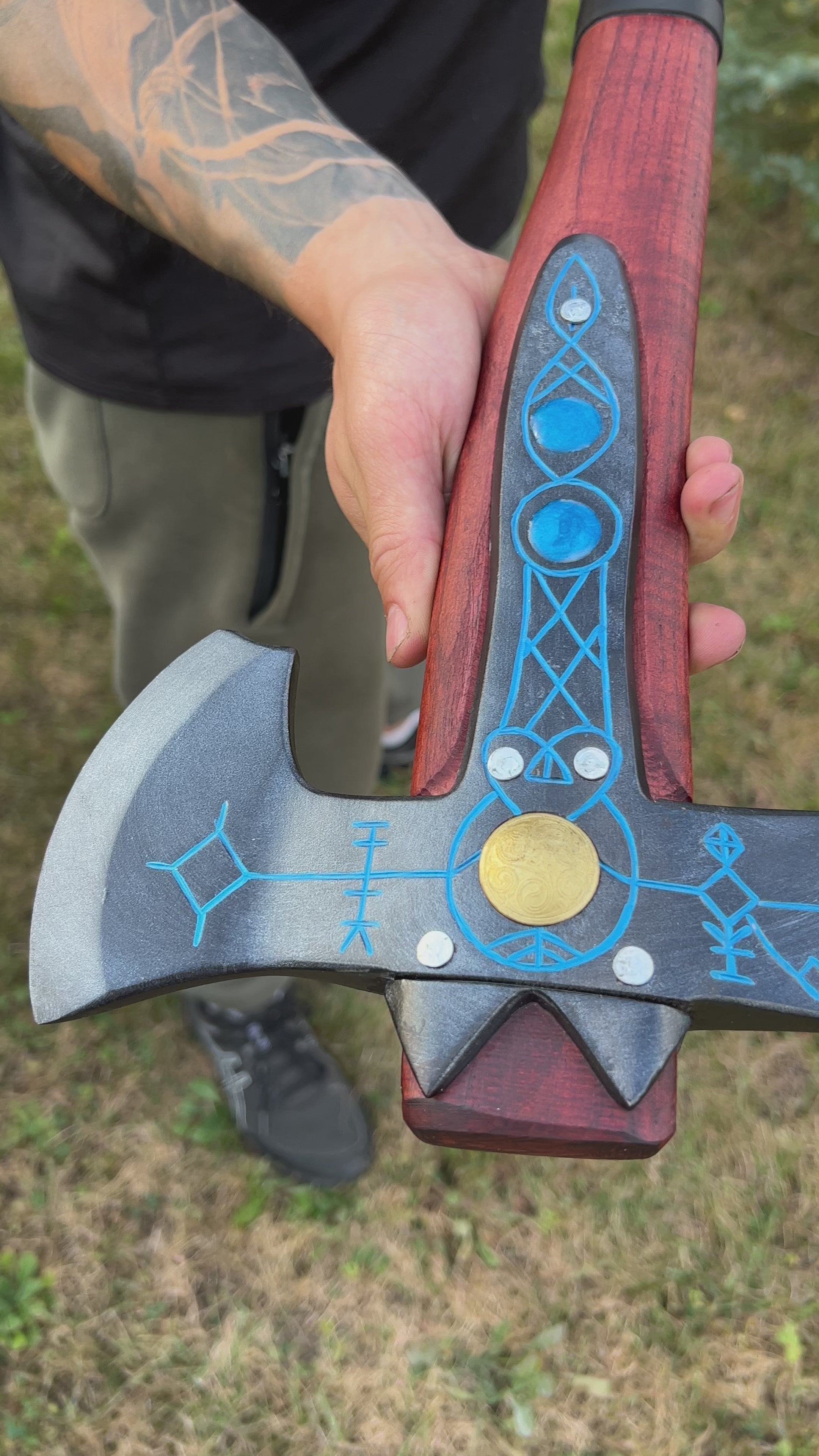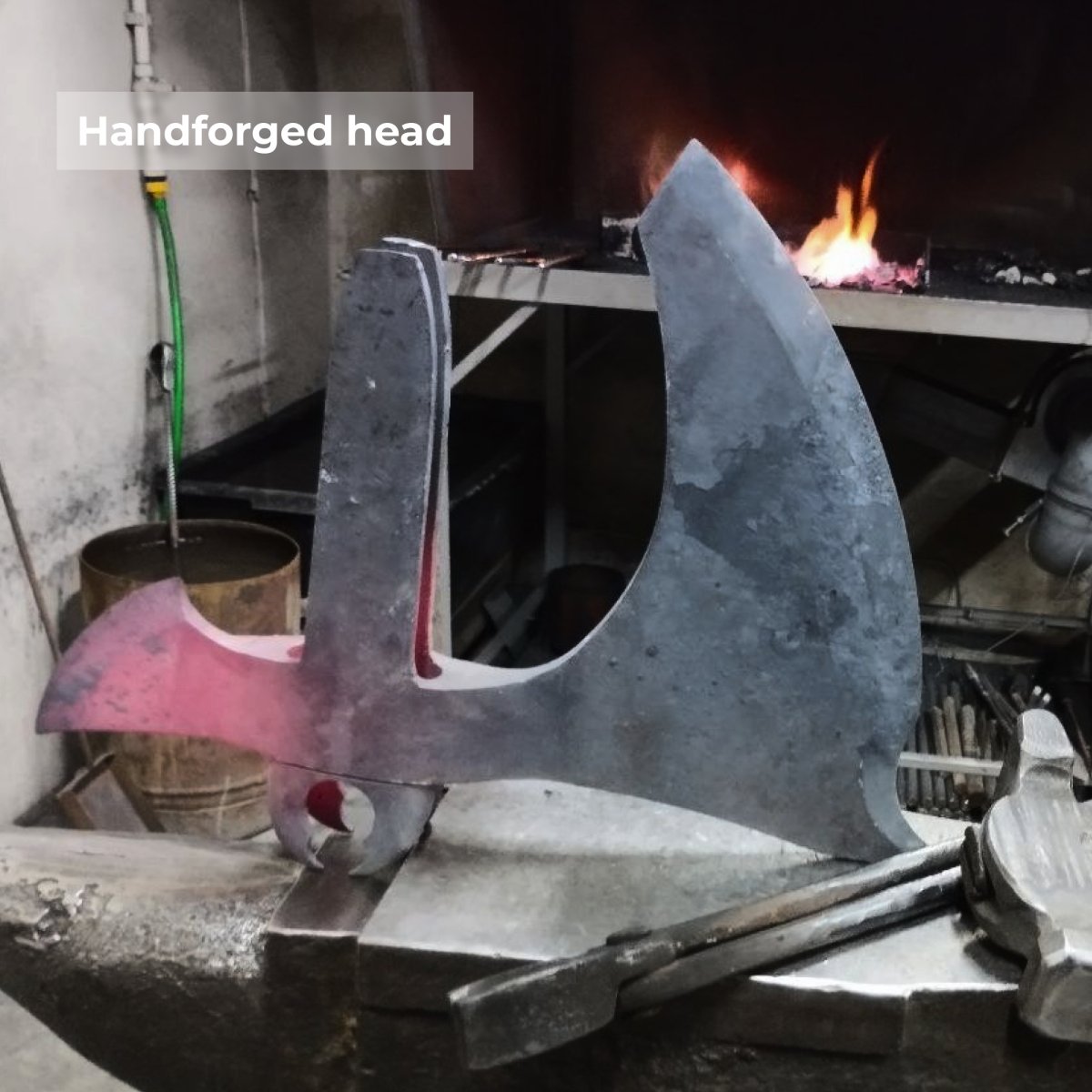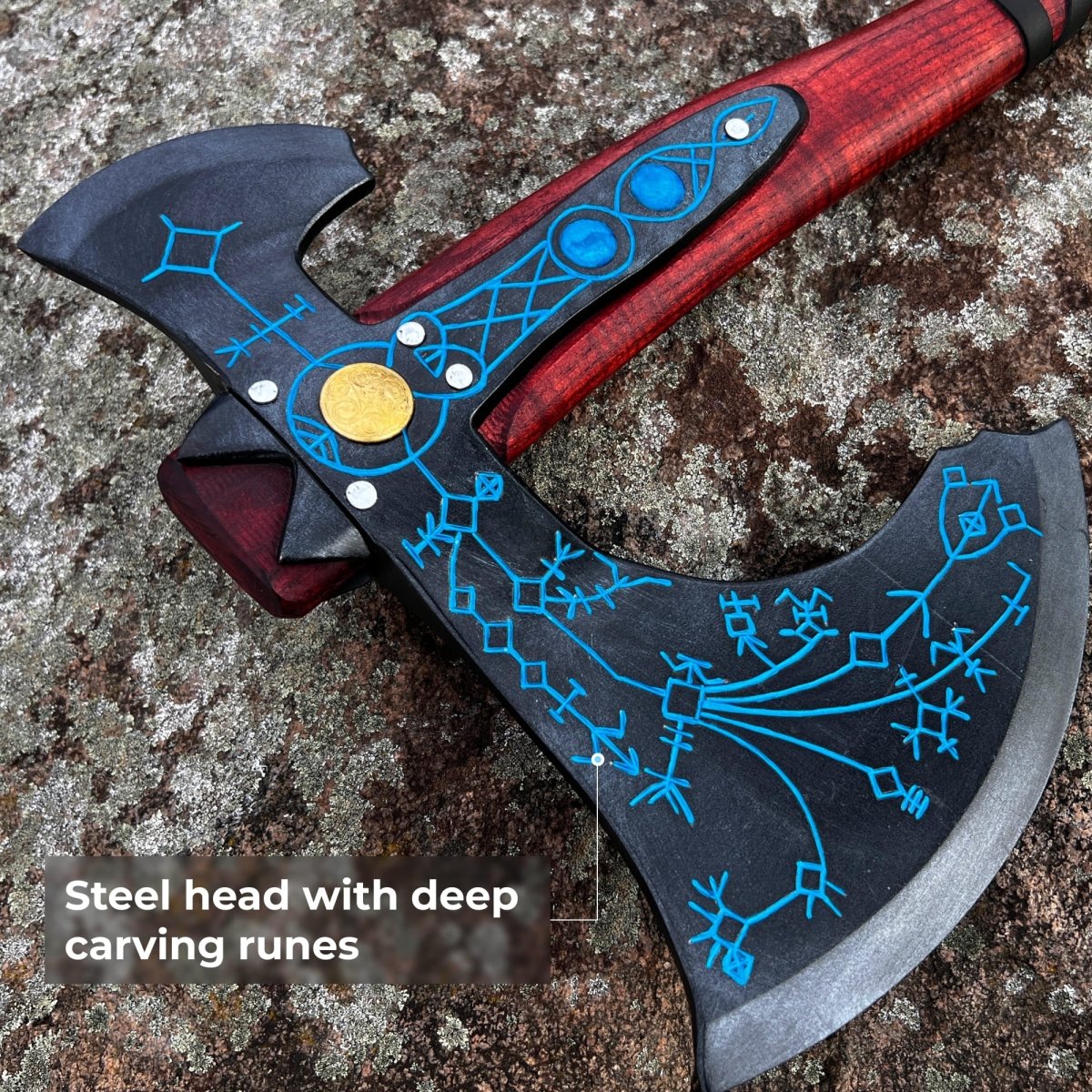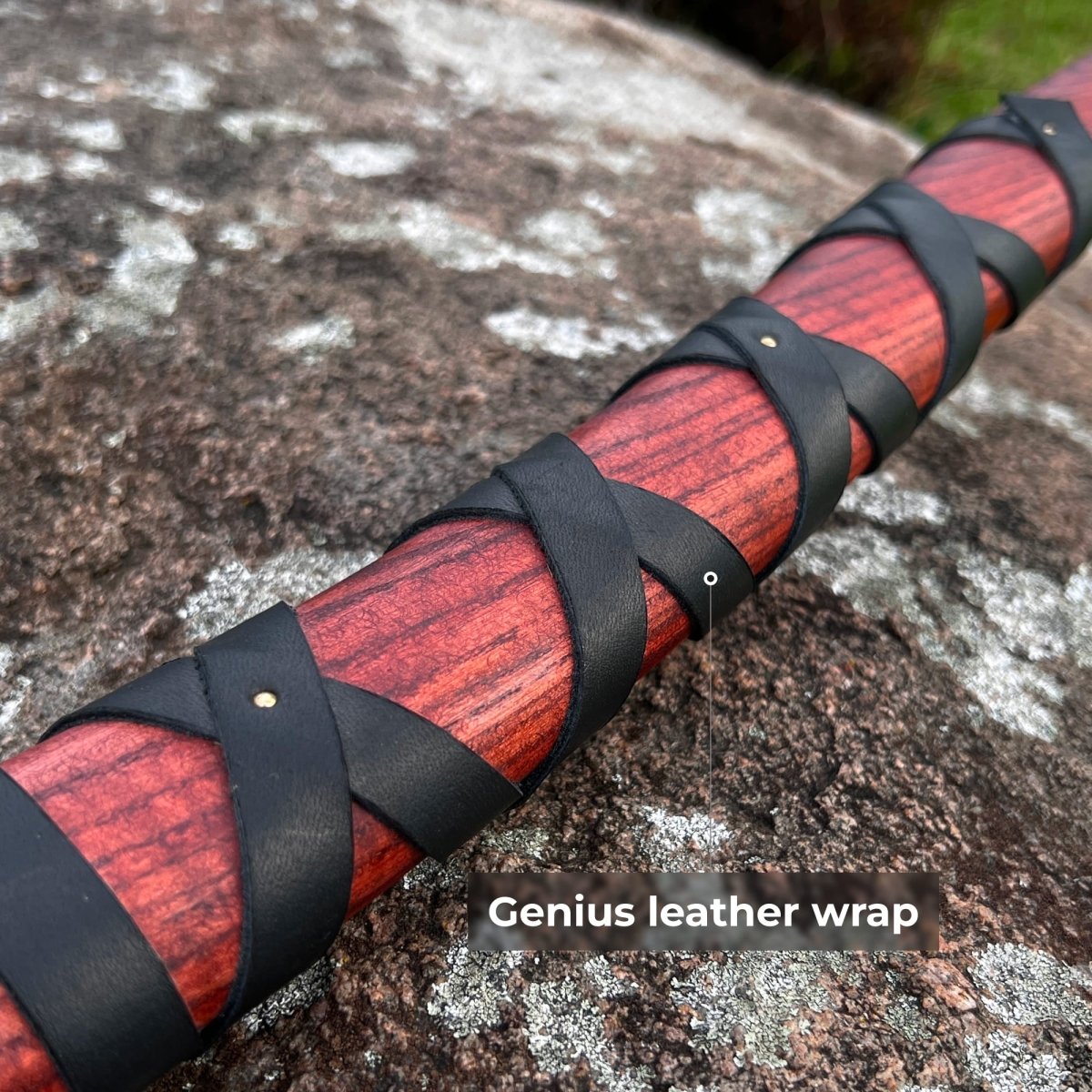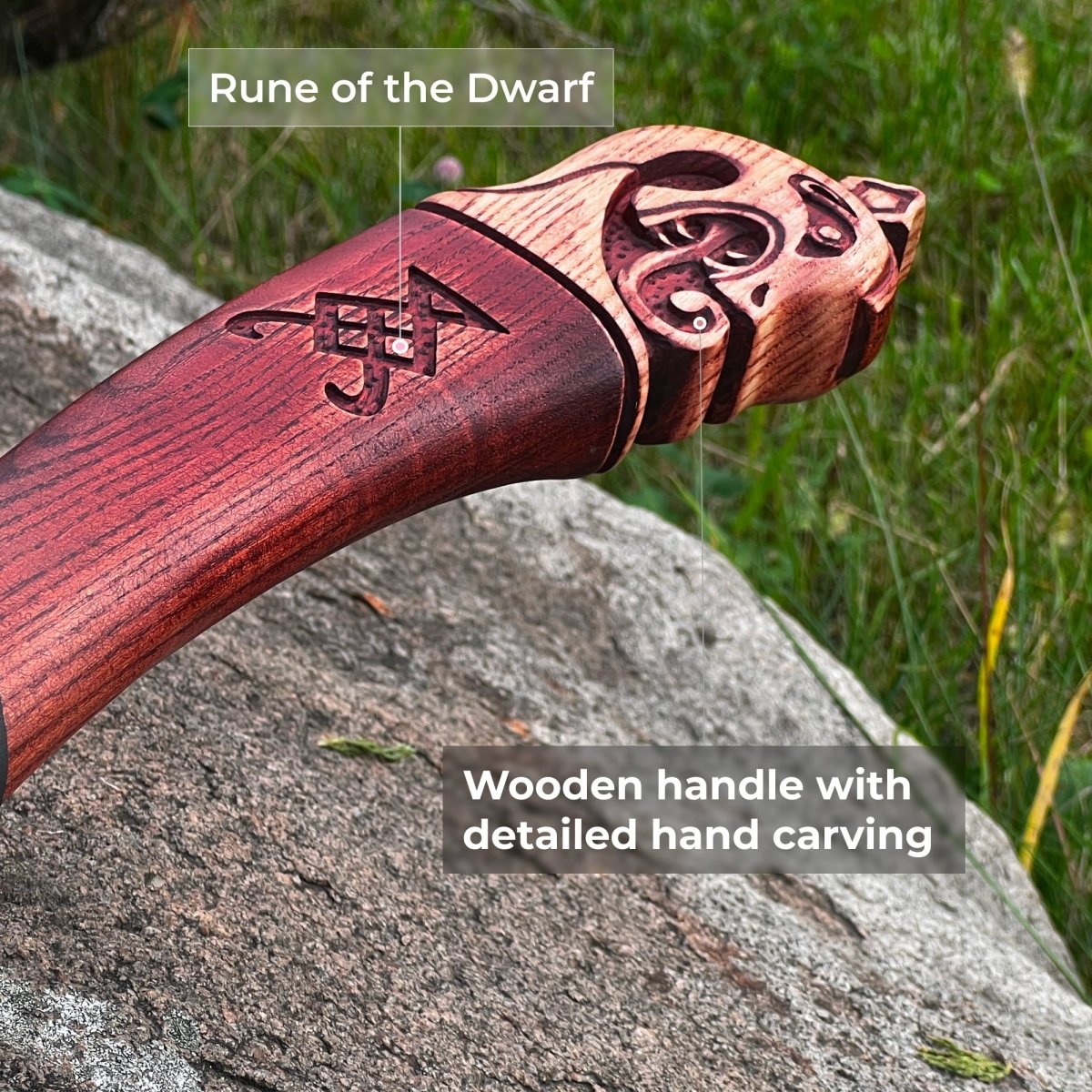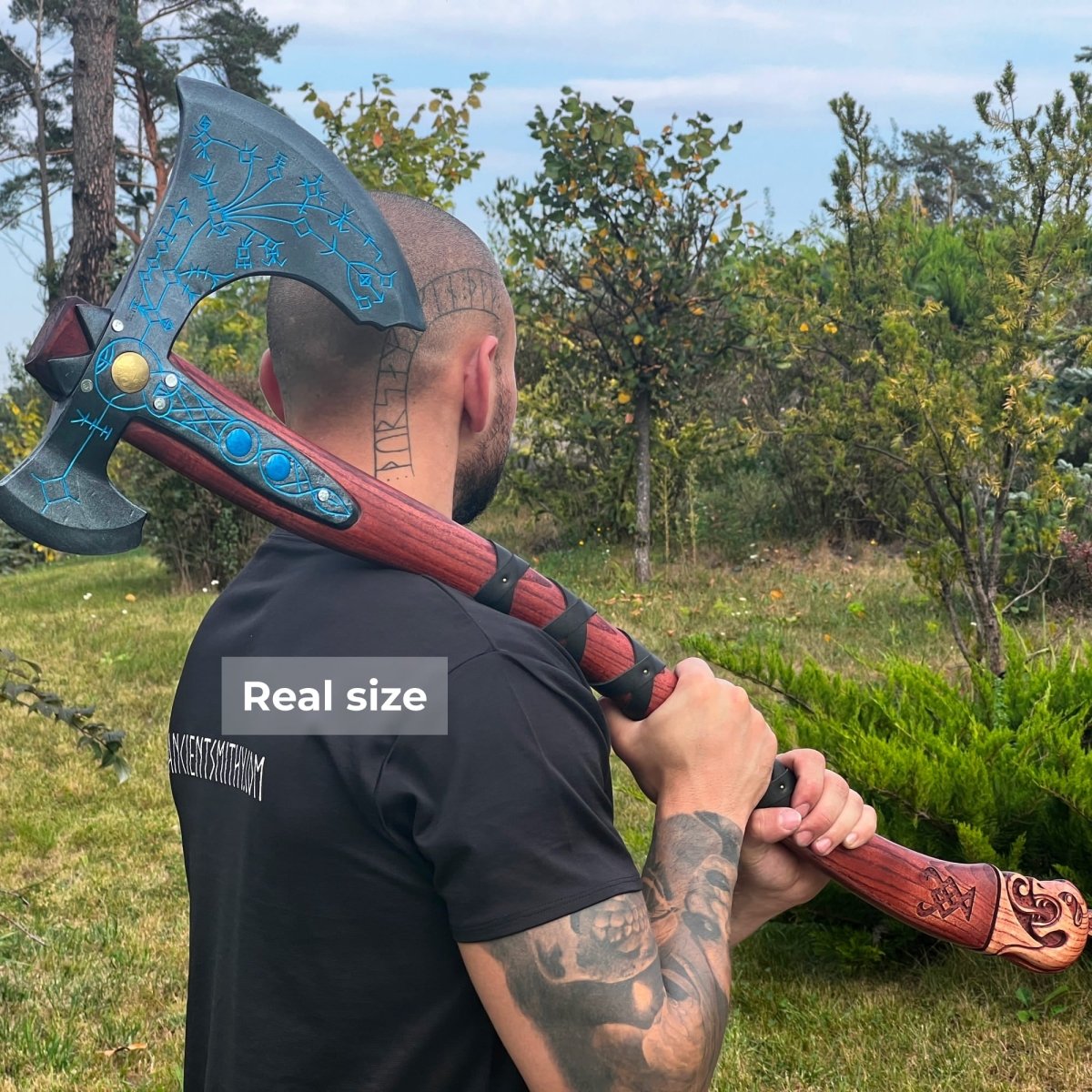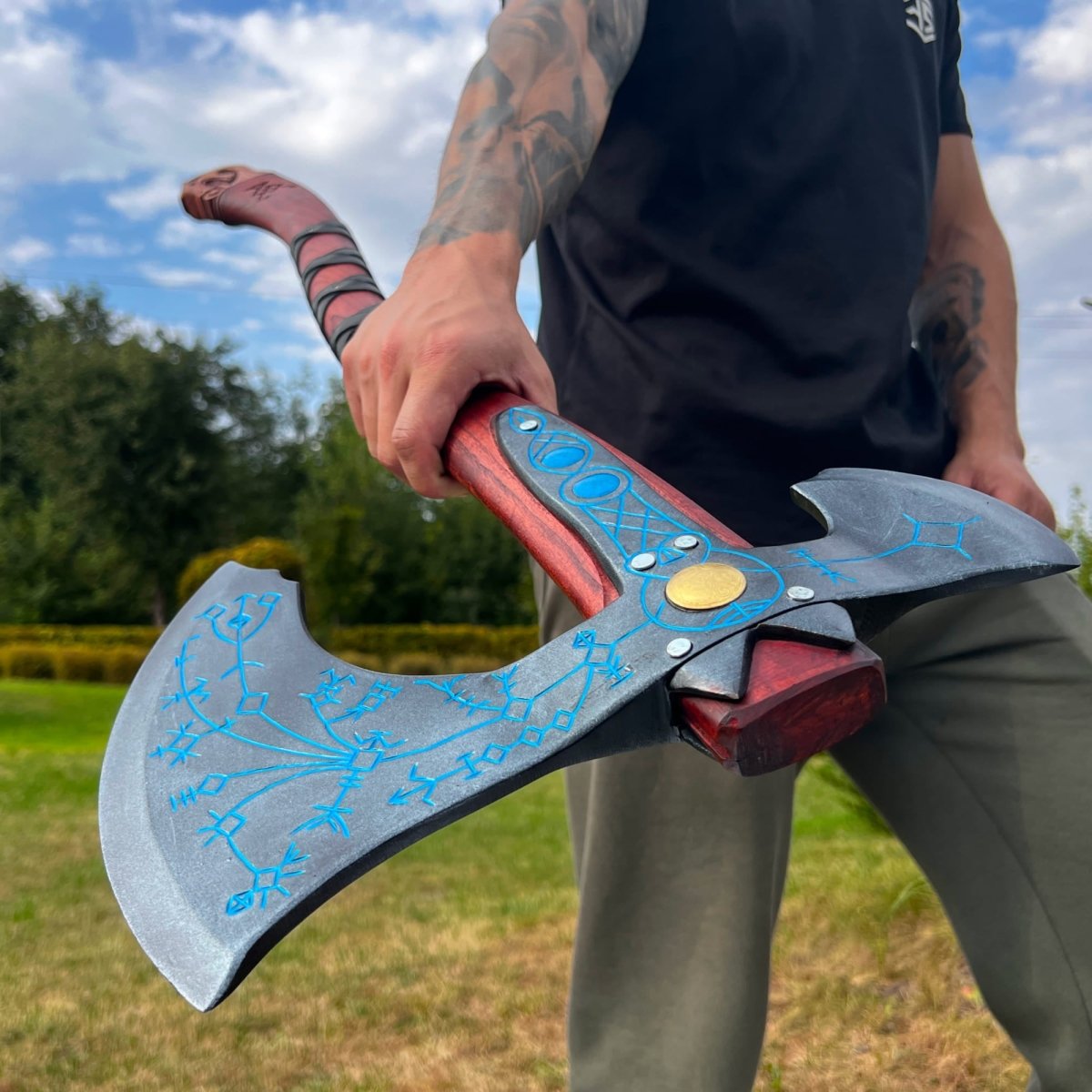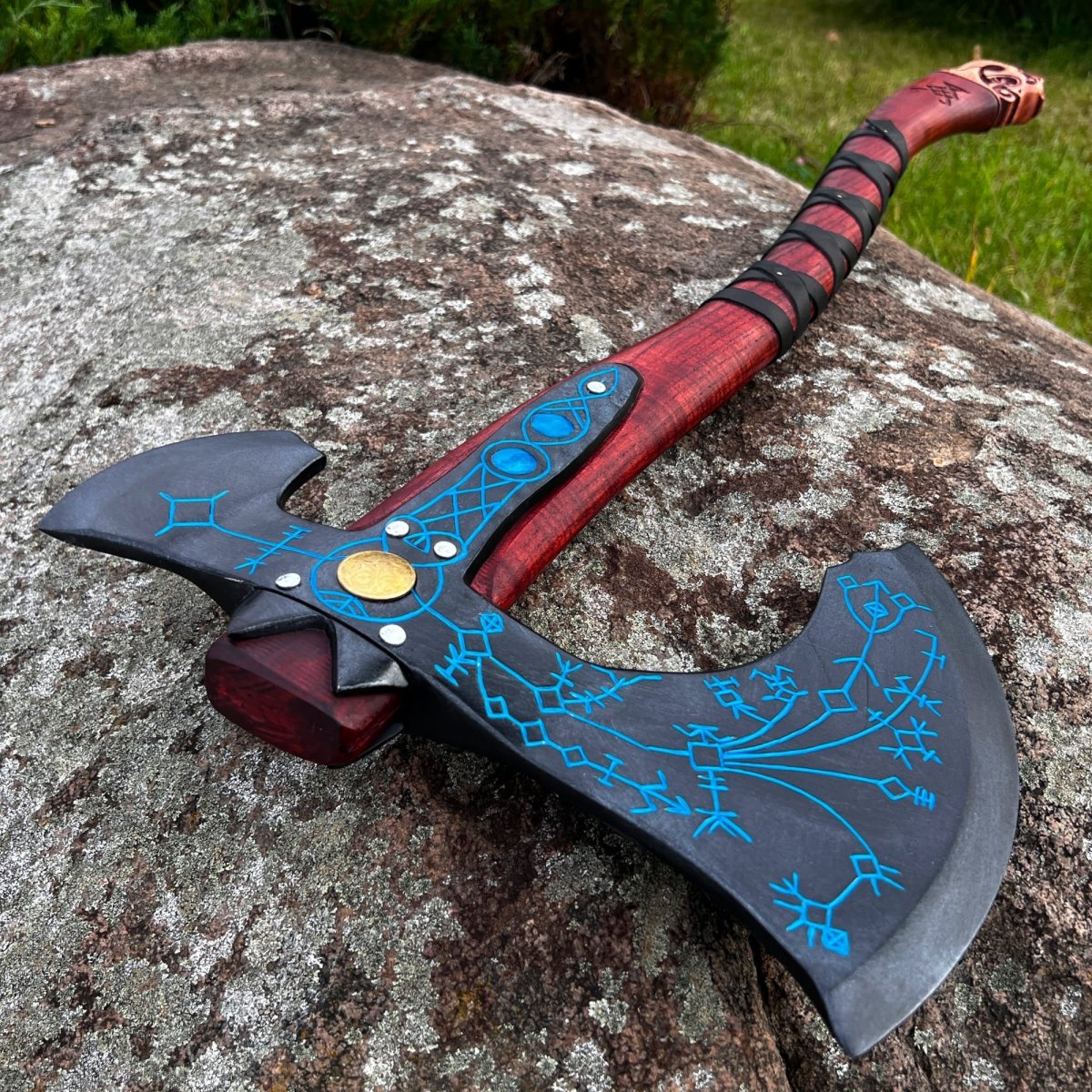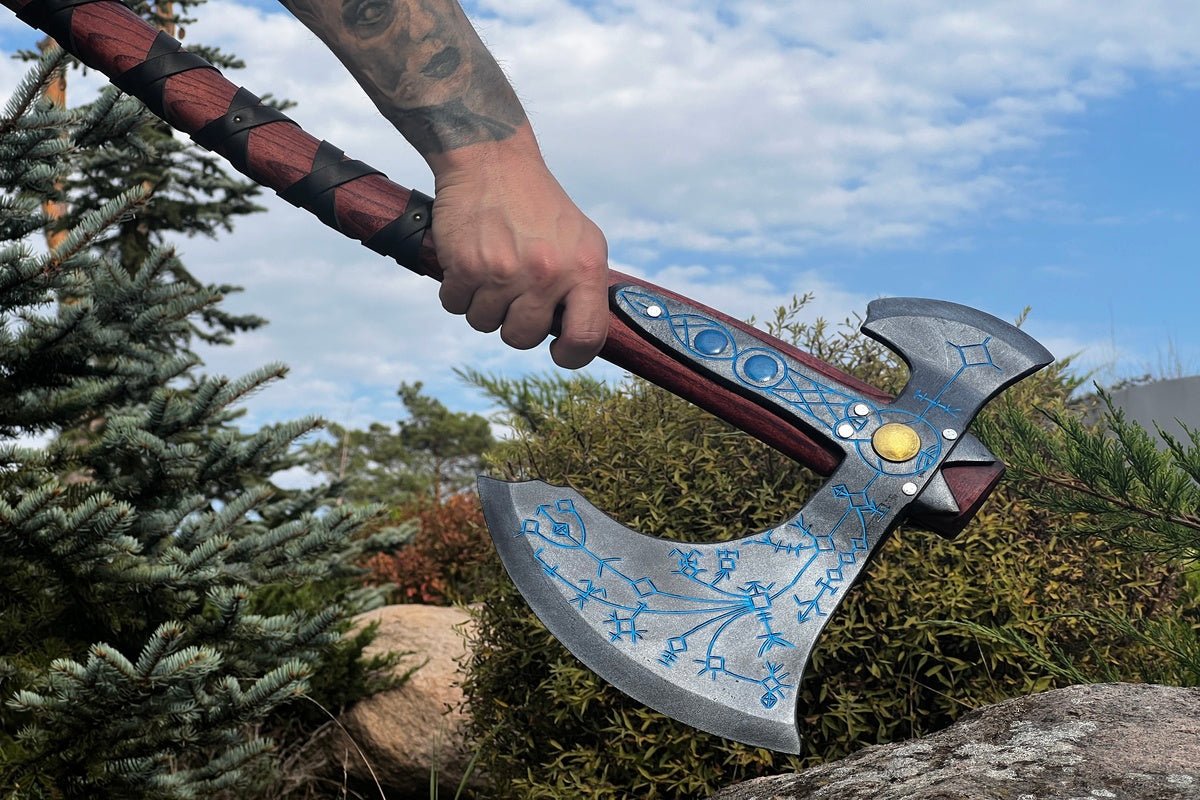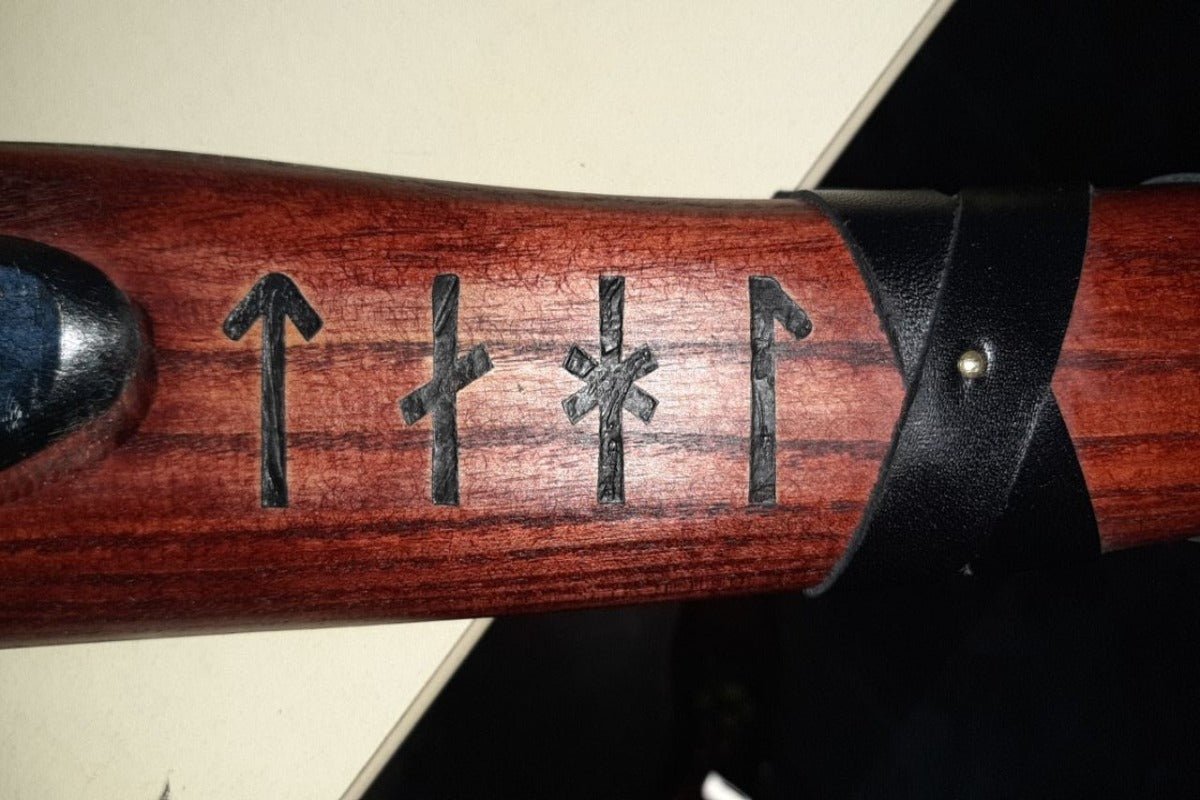 Hand-forged Leviathan axe with leather wrap
SKU: kratos-blue-1
$404.25
Regular price
$539.00
You save 25 %!
(/)
🙌 Just available in US warehouse
Hand-forged Leviathan axe with leather wrap

Masterpiece of Norse Weaponry: Dive into the world of "God of War" with our meticulously hand-forged Leviathan Axe, inspired directly by Kratos' legendary weapon. Its design ensures you embody the might and spirit of the Kratos himself.

Stunning Details and Craftsmanship: This model features a dark blue head with intricate deep engraving, while the ashwood handle is hand-carved and symbolic dwarf rune. Experience the blend of gaming legacy and exquisite artistry.
Genuine Forged Strength: Made from 1066 carbon steel, our axe is not only a collector's dream but also a durable piece forged for longevity. The handle, wrapped in soft leather, ensures a comfortable and firm grip, augmenting its authenticity.
Dimensions & Weight: Proudly standing at 35.8'', with a blade span of 12.60'', and a weight of 7.05lb. Every inch and pound of this Leviathan Axe is a testament to its robustness and grandeur.
Personalize Your Battle Axe: Elevate your weapon with optional custom engravings on the wooden handle or enhance its presentation with a distinct wooden box. It's more than just an axe; it's a part of Norse mythology and the epic "God of War" saga.
Technical Details:
Overall length: 35.8'' (910mm)
Length from blade to blade: 12.60'' (320mm)
Cutting big edge length: 8.66'' (220mm)
The second blades length: 3.9'' (100mm)
Overall weight: 7.05lb (3.2kg)
The material of axe head: 1066 carbon steel, forged
Handle material: ashwood with gently leather
The wooden box: optional
Engraving: have standard engraving (we can make your personal engraving on the wooden part of the handle: text, logo)

According to Customs requirement, the axe will come unsharpened.
Describe what you would like engraved here. You can also send an image to email: info@ancientsmithy.com.
If you have any questions feel free to contact me.
Hand-forged Leviathan axe with leather wrap
$404.25
Regular price
$539.00
You save 25 %!
Choose options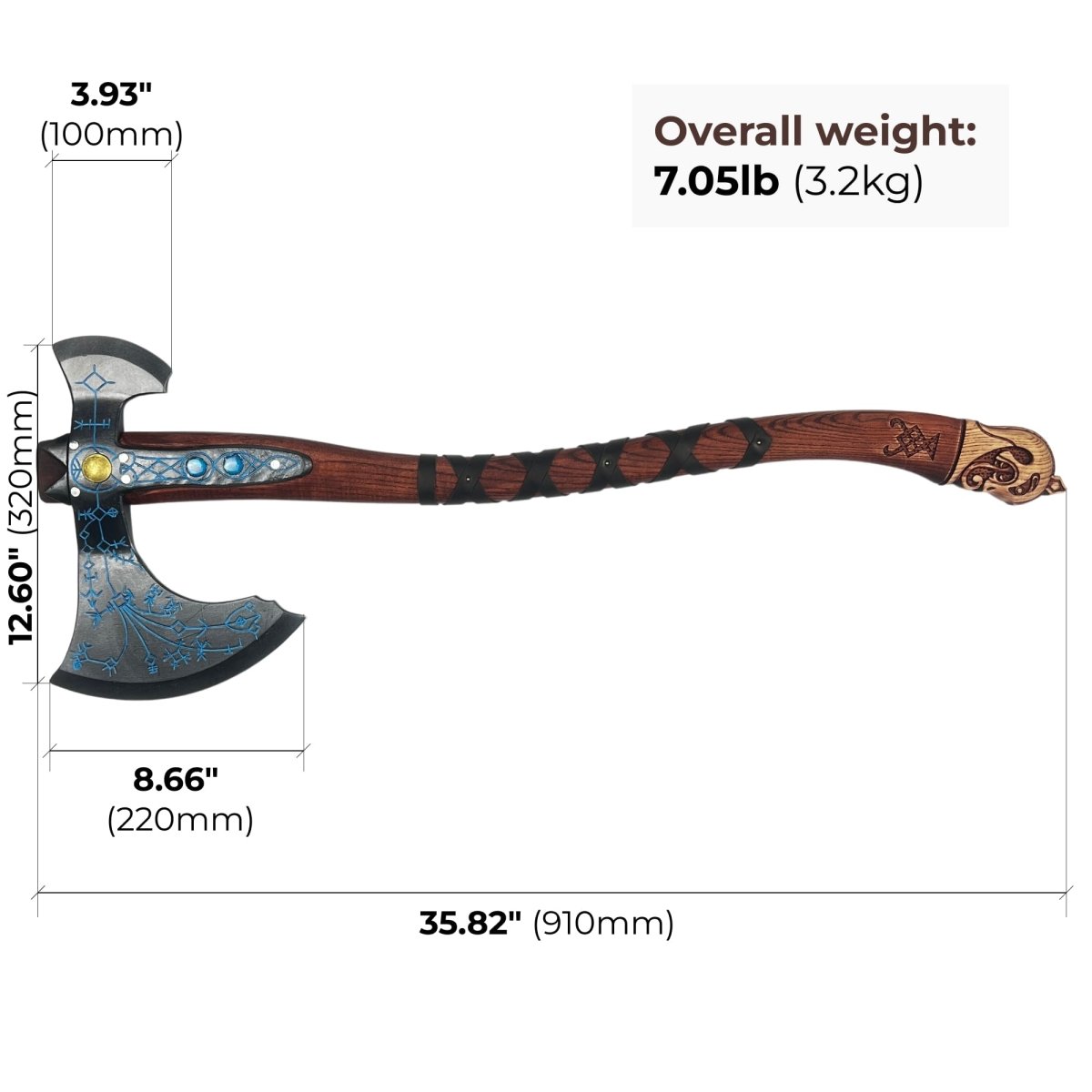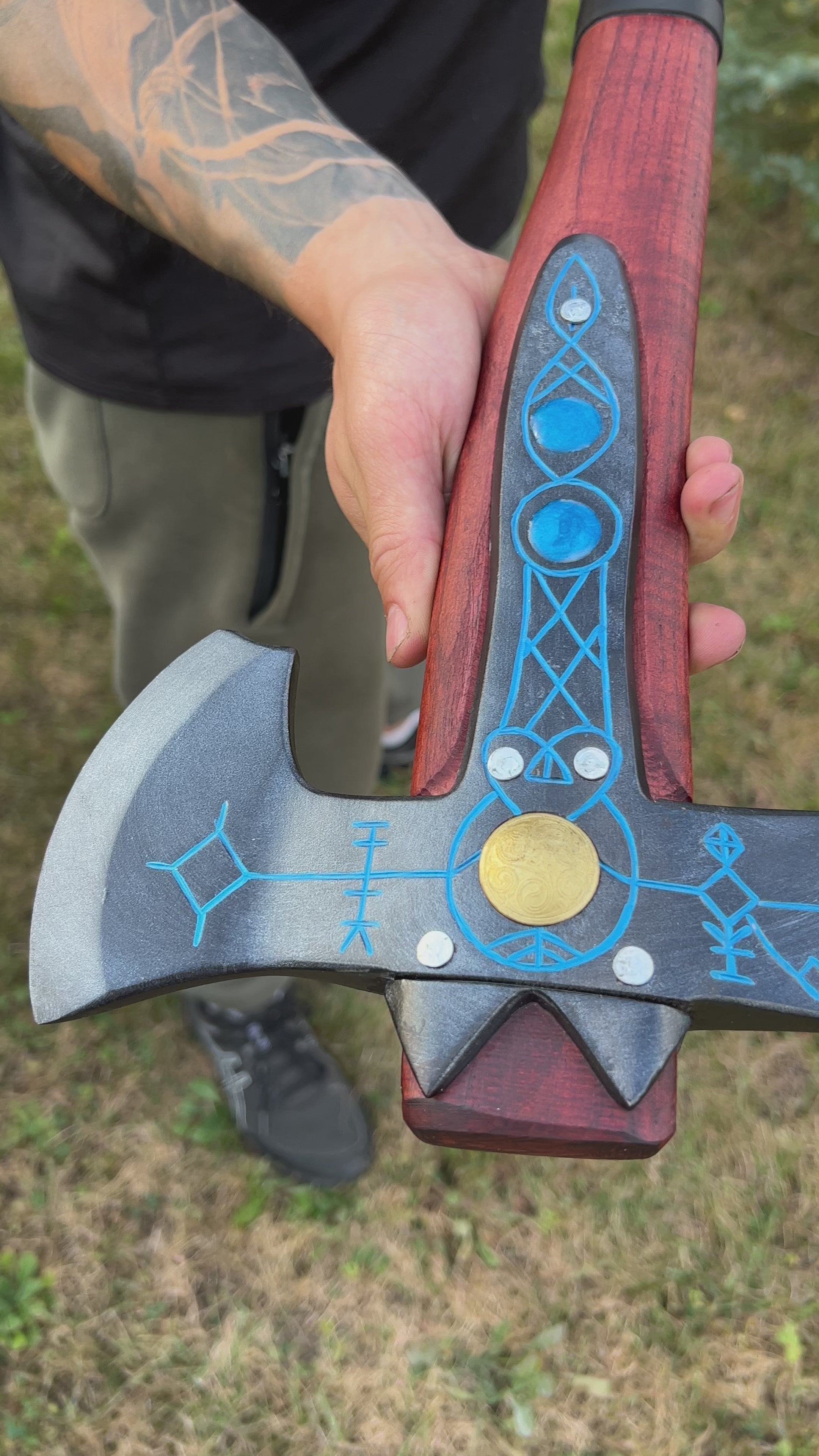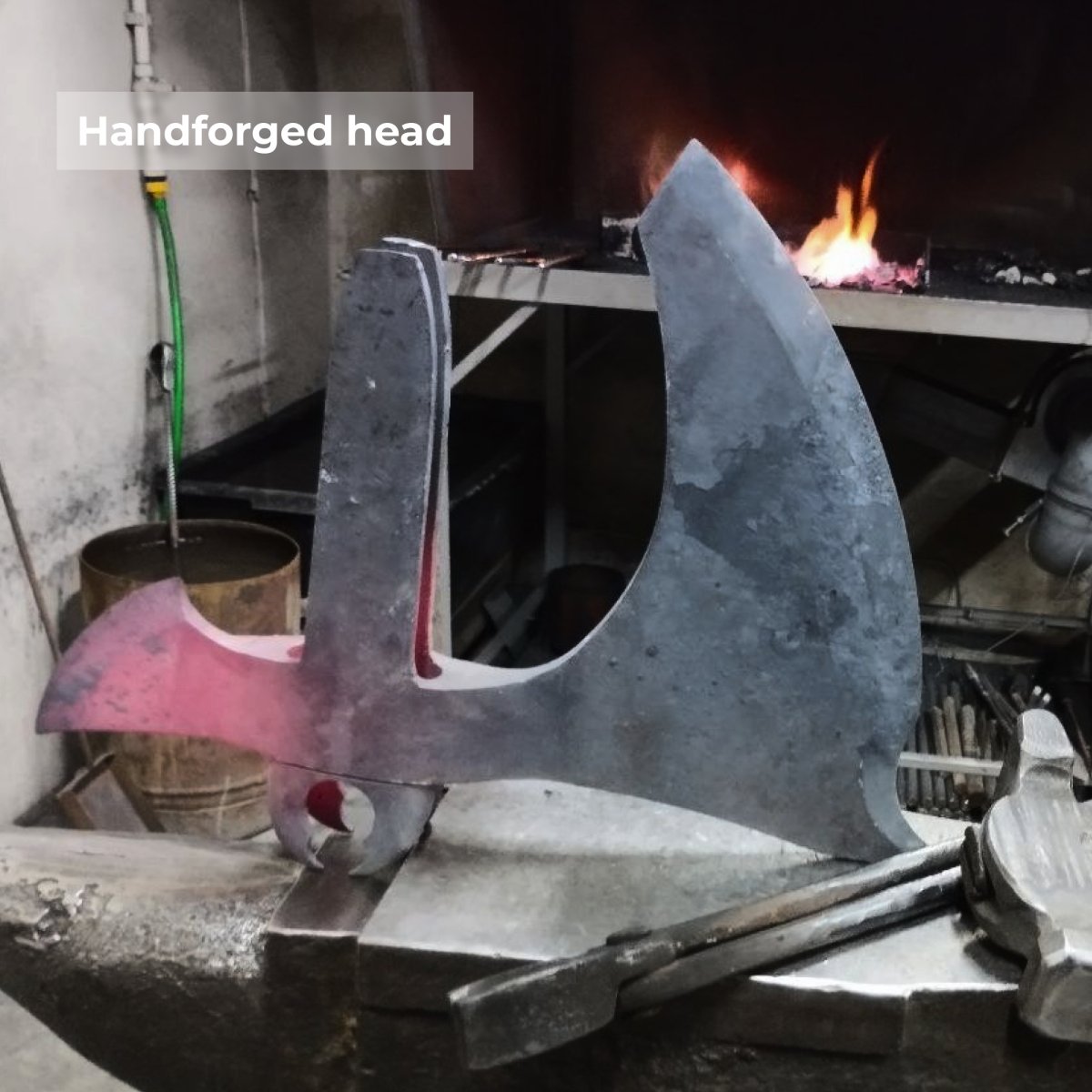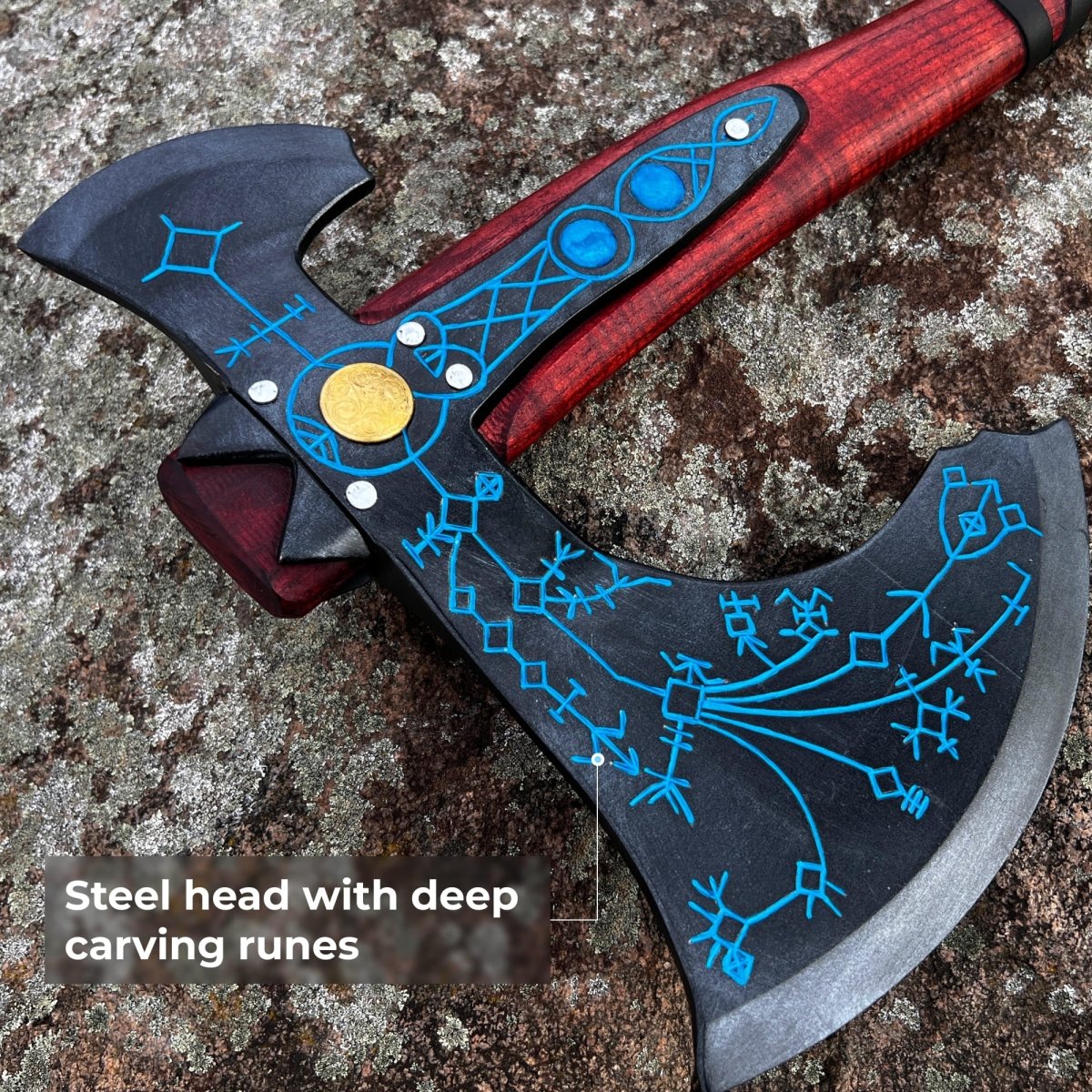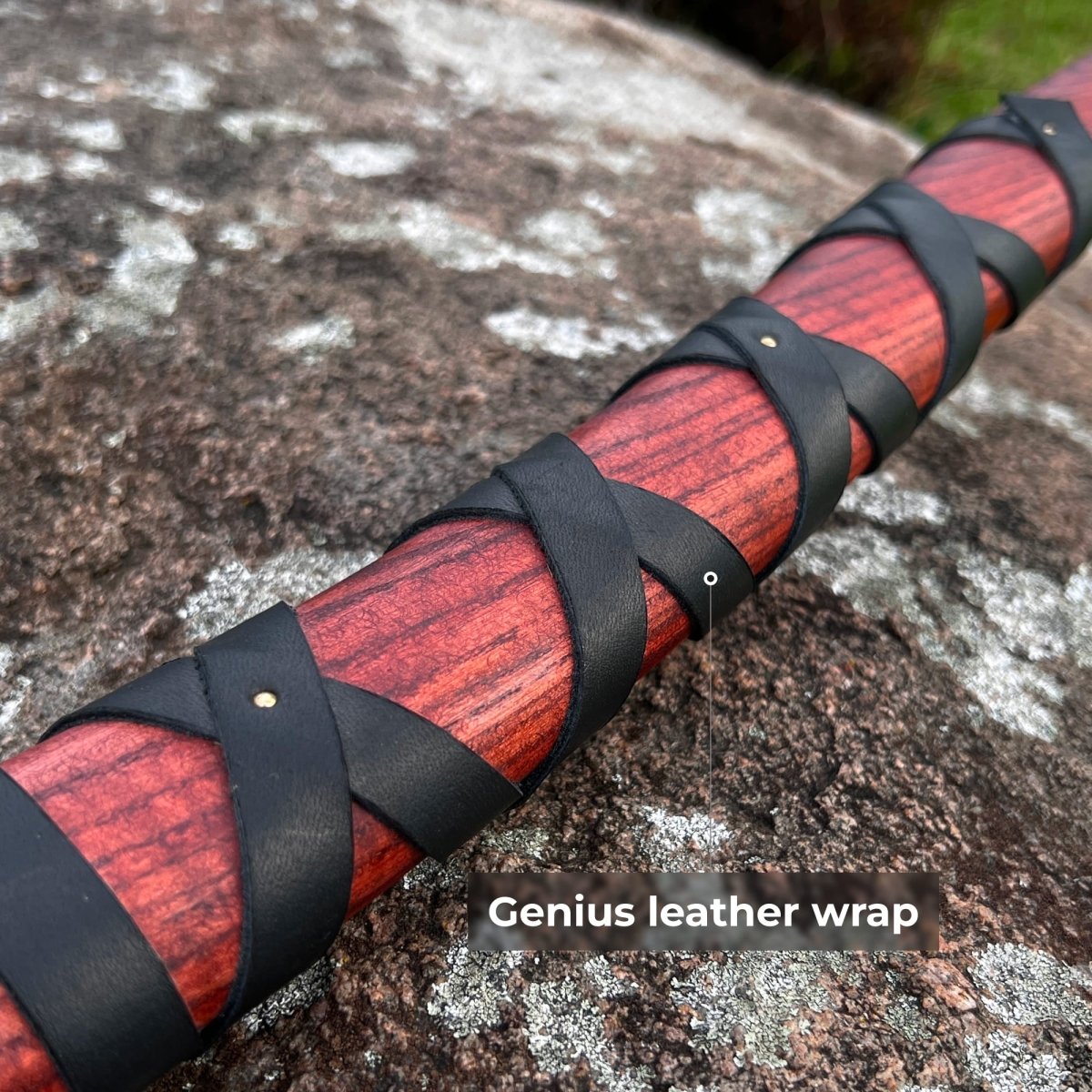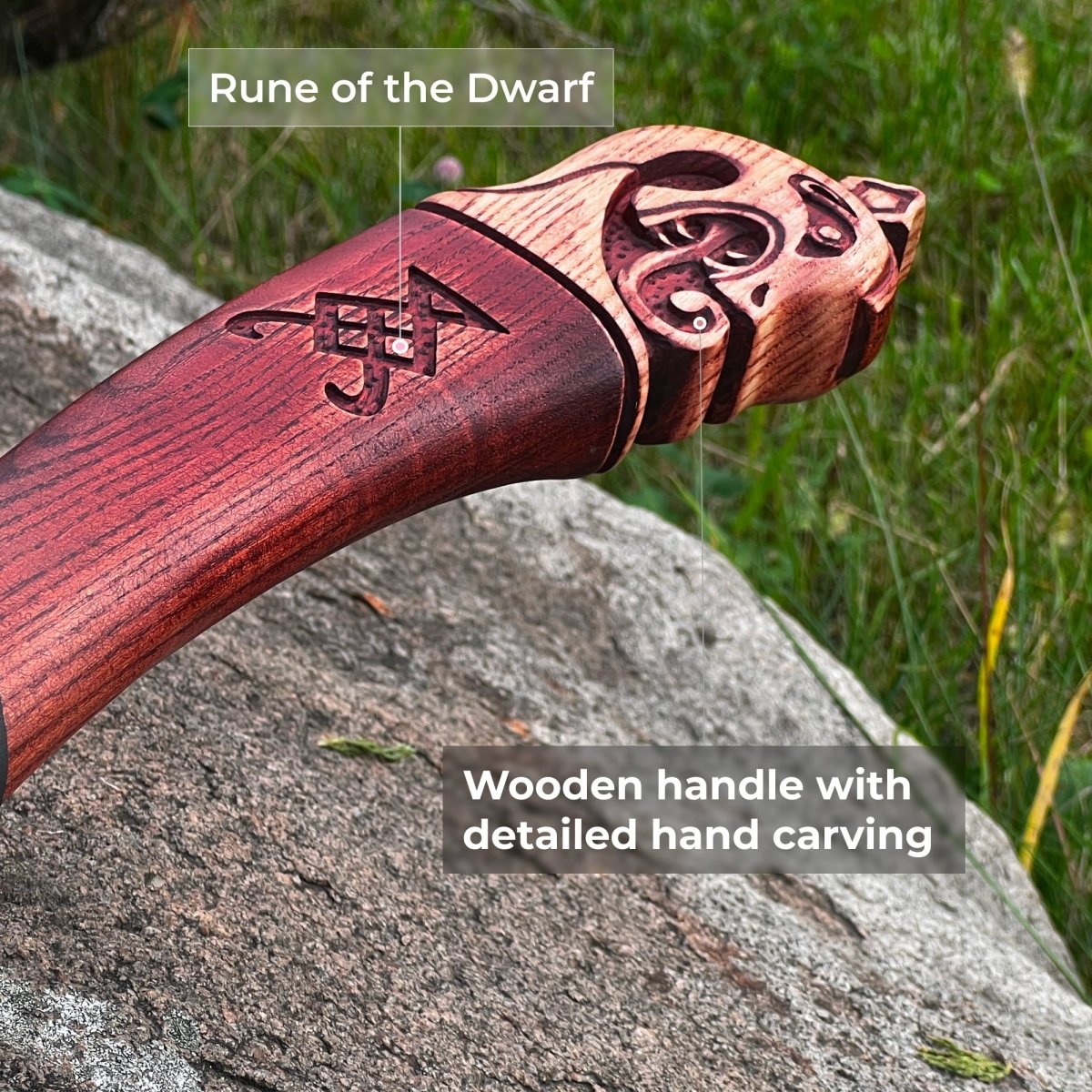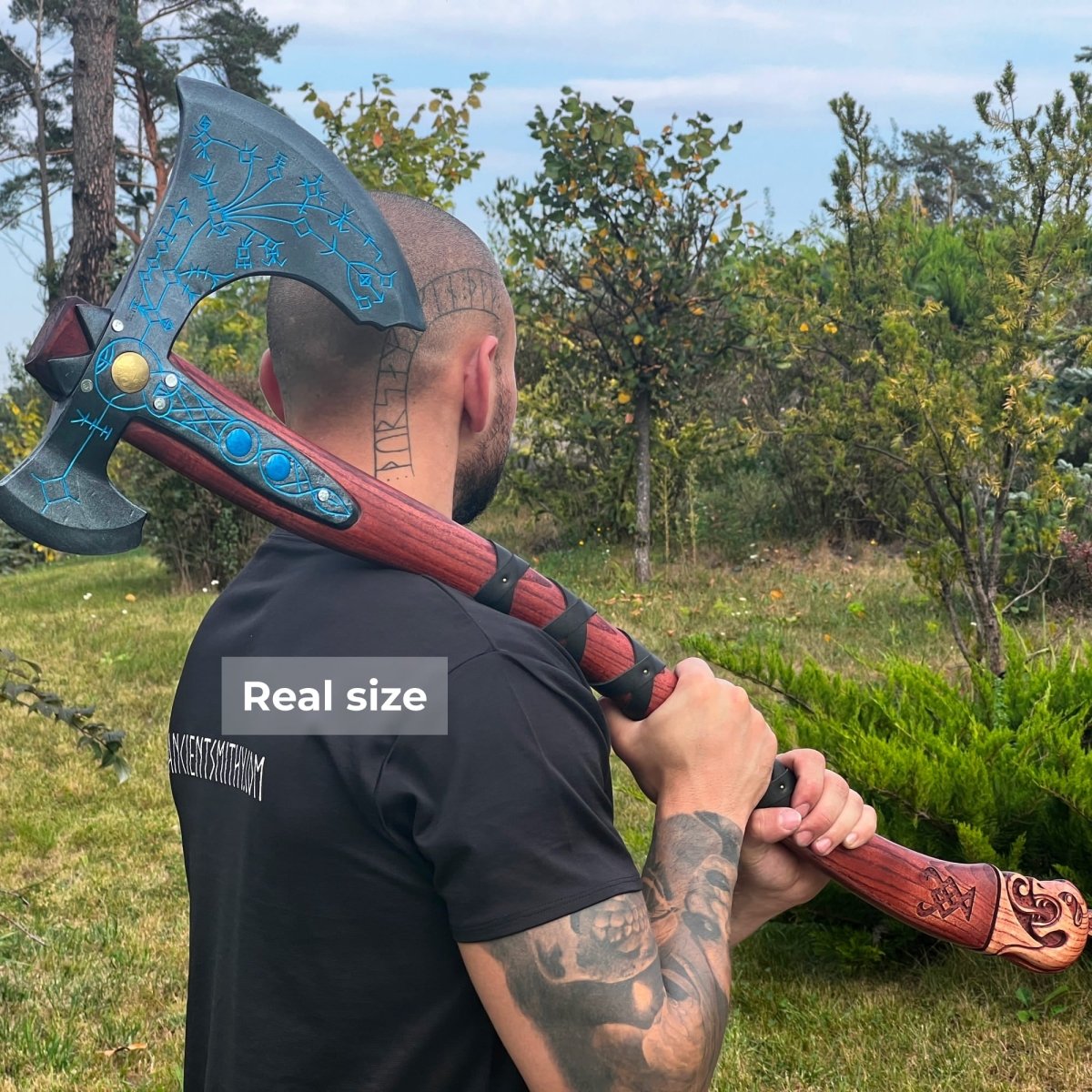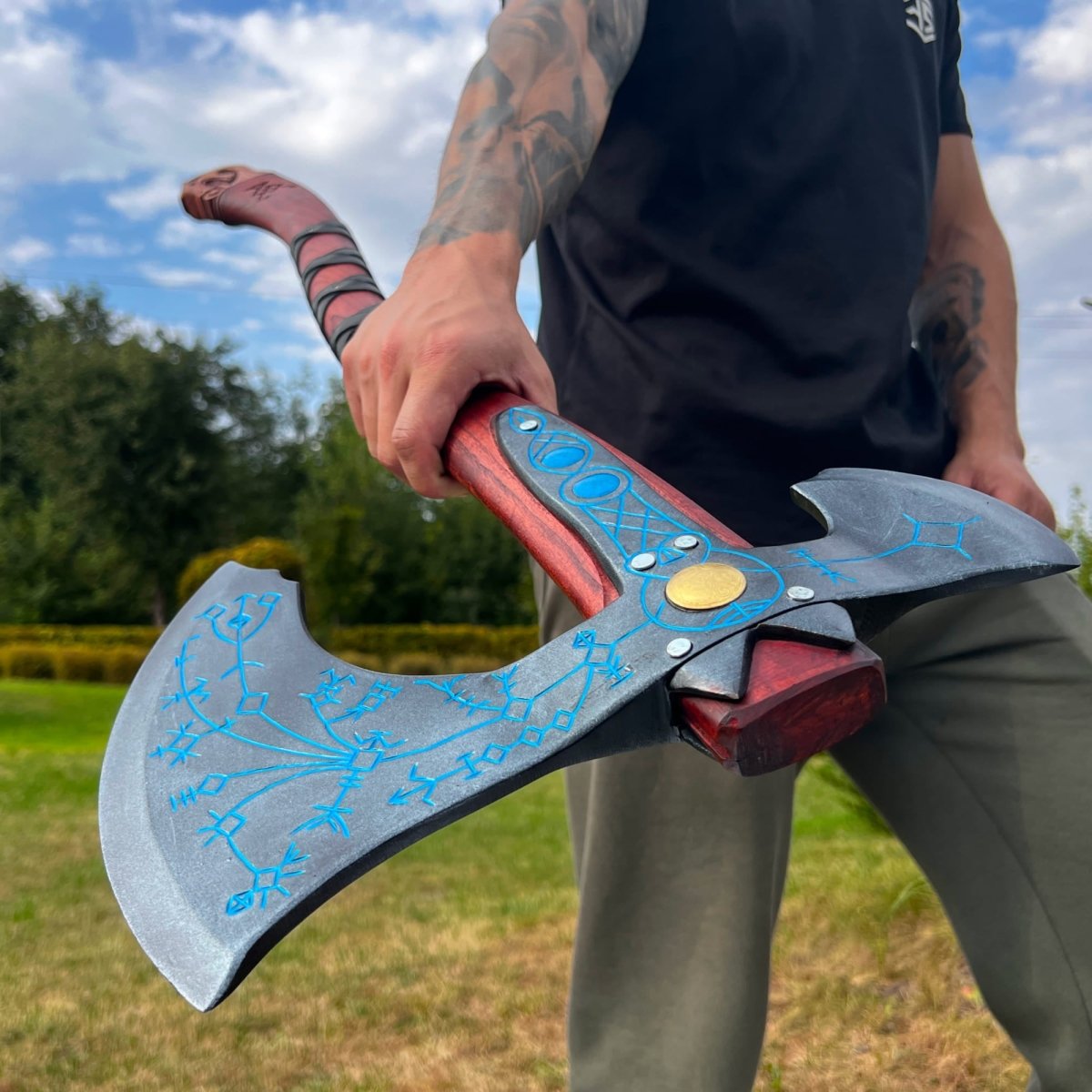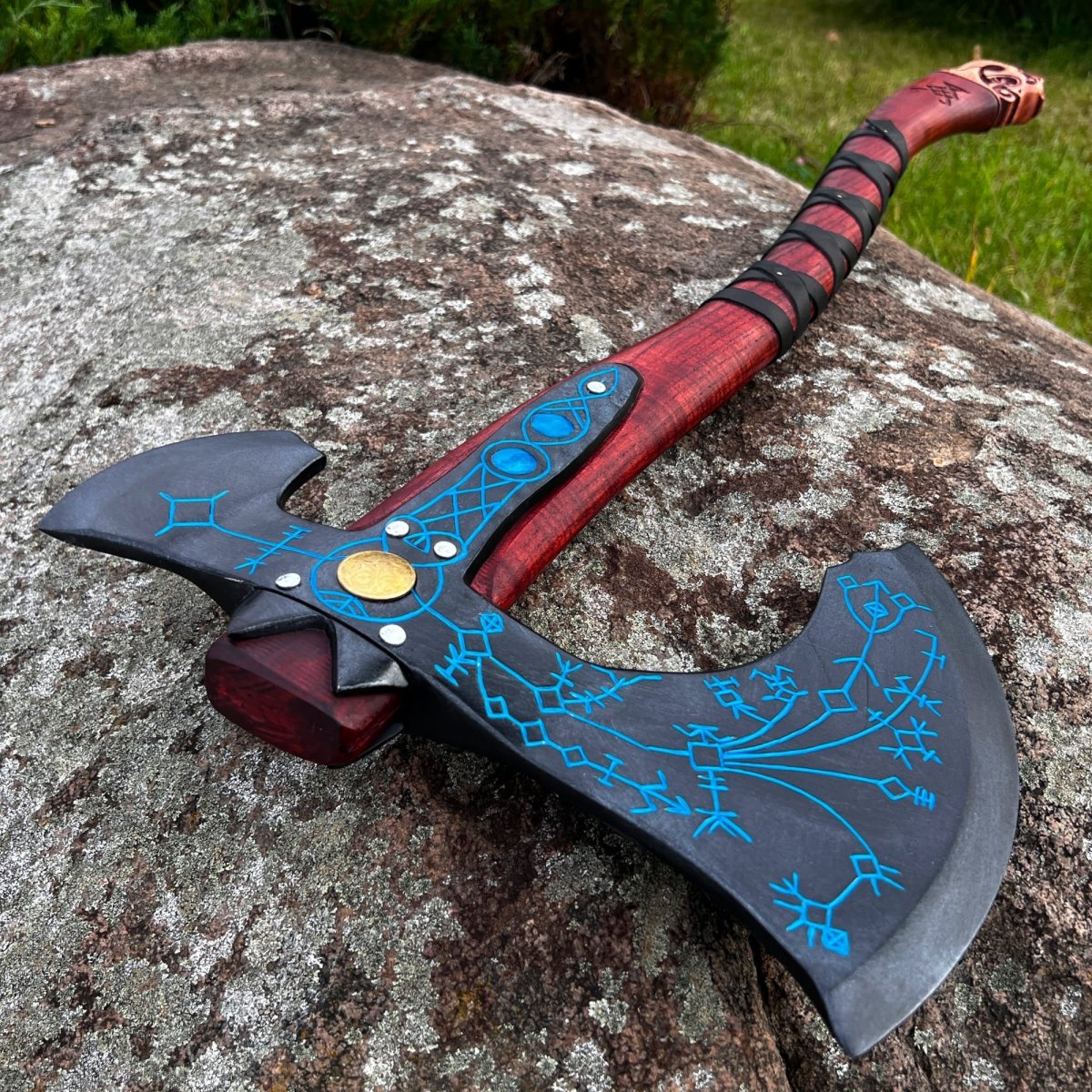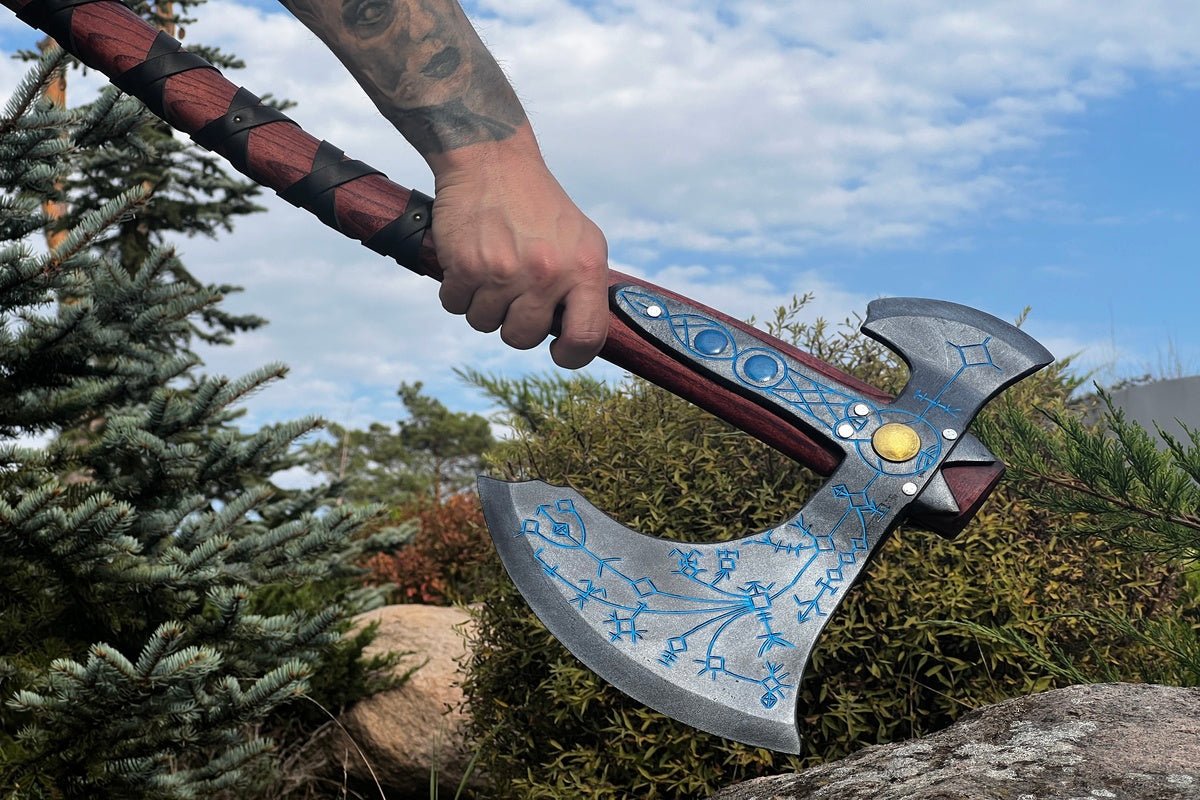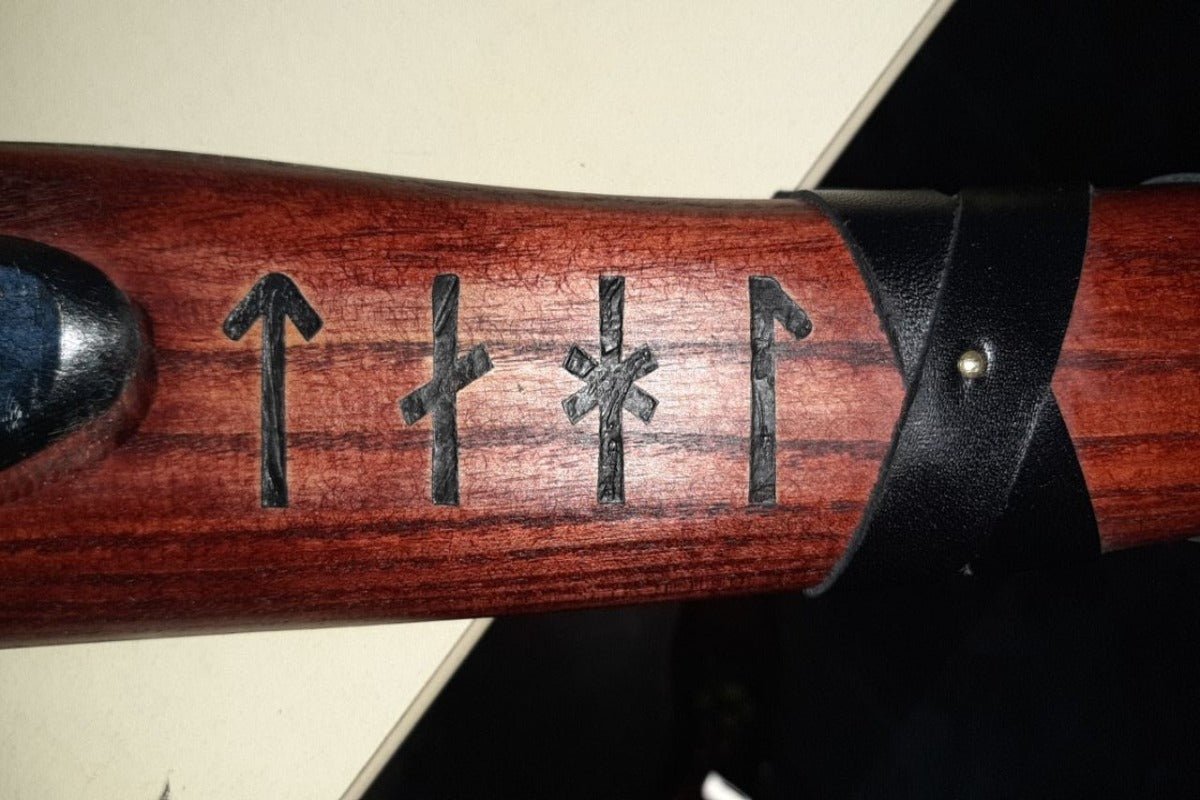 $404.25
Regular price
$539.00
You save 25 %!
(/)
View details
Need help?
Frequently Asked Questions
Yes, we ship all over the world. We send by DHL, Fedex, UPS, USPS and other carriers depends on country.
Shipping costs depends on weight and will be added at checkout. We run discounts and promotions all year, so stay tuned for exclusive deals.
We try to keep all products in stock in our warehouse in Ukraine and USA. The processing time usually take 1-2days. The delivery time depends on where you are. The regular delivery takes 12-21 days. Express delivery takes 5-10 days. Delivery details with tracking number will be provided in your confirmation email.
My team and I are from Ukraine. Our manufacturing facility is based in the western part of Ukraine, in a safe location. It has not been affected by the war, and we continue working. We send parcels from Ukraine and from our warehouse in the US.
By default, you'll get the same product as in the photos. Also, we offer additional engravings(text, logo, images) for an additional fee. Describe what you would like engraved in field: your personalization.
To maintain your hammer's longevity, periodically apply boiled linseed oil to both the handle and the hammerhead. It's natural for wooden handles to break sometimes. However, by oiling and being cautious with the hammer-handle connection, such as avoiding dropping it on its handle, you can prolong its life. Refrain from hitting hard surfaces with the hammer, as metal-on-metal contact can lead to dents and potentially hazardous chipping.

If the hammer's face shows signs of wear over time, you can refresh its appearance using a Trizact belt and a buffer. This will keep it looking neat and polished.