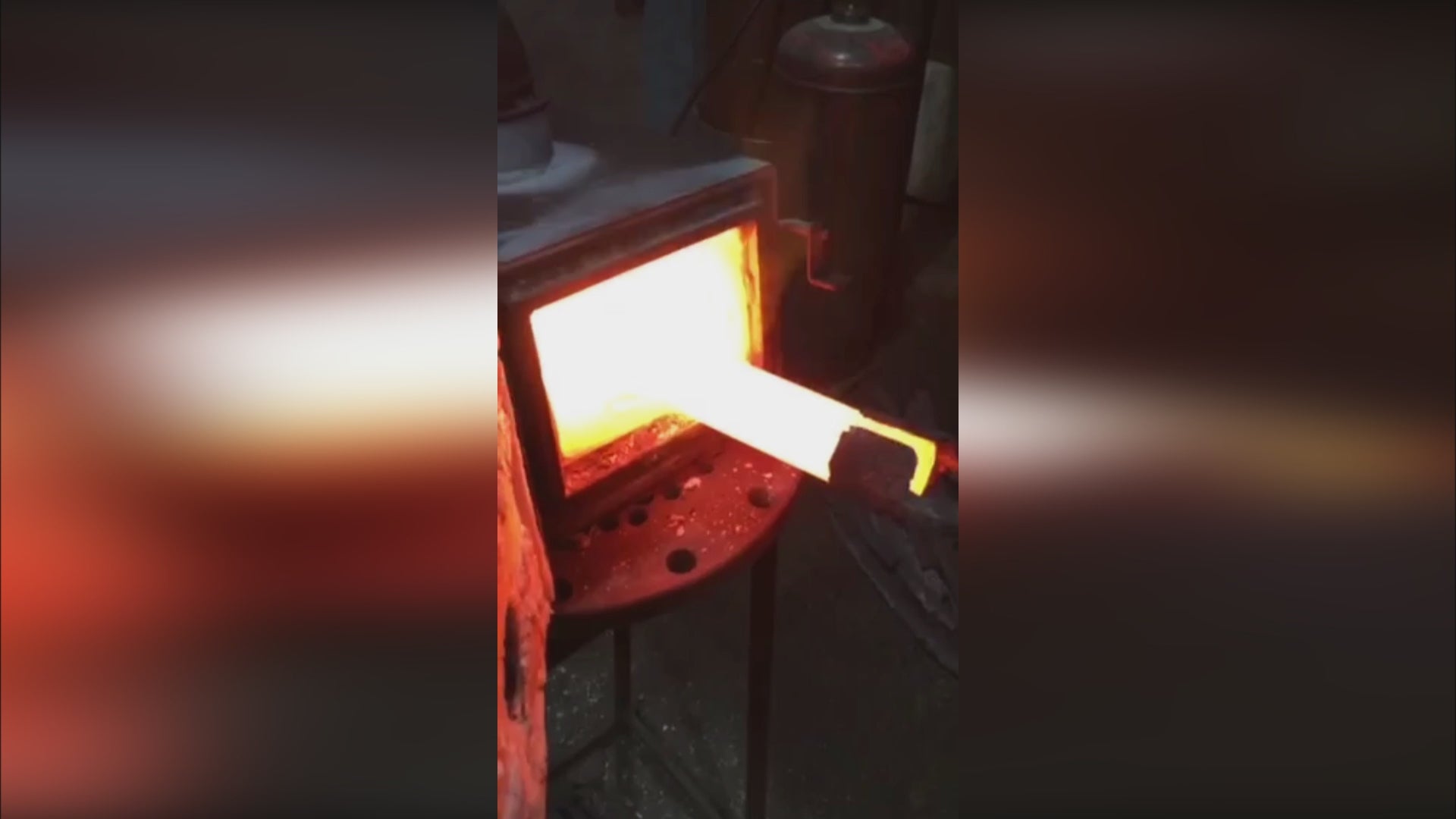 Straight Peen Hammer for blacksmithing
SKU: ykhamm-2(2lb)
$101.00
Regular price
(/)
Straight Peen Hammer for Blacksmithing: Master's Choice
Purpose-Built for Blacksmithing: Specifically designed straight peen hammer for expert blacksmiths, ensuring precision and efficiency in every strike.

Optimal Size and Weight Ranges: Available in lengths from 11.81-15.74" (300-400mm) to fit your blacksmithing needs. Choose from weights of 2.0 lbs, 2.5 lbs, 3.0 lbs, or 3.5 lbs (0.9kg, 1.13kg, 1.36kg, 1.57kg) to match your forging style.

Durable Hammer Head: Expertly forged from C 70W2 steel, ensuring the perfect balance of toughness and durability. Dimensions: 5.5x2.7x5.5" (140x70x50mm).

Tailored Hardness: Crafted to a Rockwell hardness of 48-52(HRC), this hammer offers the right balance between hardness and malleability, ensuring fewer chips and maximum lifespan.

Ergonomic Ashwood Handle: Our straight peen hammer comes with a robust and comfortable ashwood handle, which provides a reliable grip and reduces hand fatigue during prolonged usage.

Personalize Your Tool: Make your hammer truly your own! We offer custom engraving on the wooden part of the handle. Whether it's your name, a significant date, or your blacksmithing logo, we've got you covered.
Choose the Straight Peen Hammer that masters trust. Tailored for precision, durability, and personal touch in every forge.
Technical Details:
Overall length: 11.81-15.74" (300-400mm)
Overall weight: 2.0 lbs; 2.5lbs; 3.0lbs; 3.5lbs (0.9kg; 1.13kg; 1.36kg; 1.57kg)
Head size: 5.5x2.7x5.5" (140x70x50mm)
Hardness: Rockwell 48-52(HRC)
The material of the head: forged from C 70W2 steel, hardened and tempered
Handle material: ashwood
Engraving: we can make your personal engraving on the wooden part of the handle: text, logo
Hardening:
We preheat the hammer to about 1200°F (649°C).
Then we increase the temperature to 1450°F to 1500°F (788°C to 816°C).
Quench the hammer in the water.
Tempering:
To reduce the brittleness and increase toughness, tempering is essential.
We clean the surface of the hammer to expose bare metal. This helps in monitoring the tempering colours.
We heat the hammer in an oven. Aim for a temperature between 400°F to 500°F (trying to get 225°C) for a good balance of hardness and toughness.
W hold the temperature for at least an hour per inch of thickness.
Then we allow the hammer to cool to room temperature.
Testing and Verification:
After tempering, we test the hammer's hardness using a Rockwell hardness tester.
Also, we have a simple rebound test. we strike the hammer against an anvil; it should rebound without chipping or deforming.

Straight Peen Hammer for blacksmithing
$101.00
Regular price
Choose options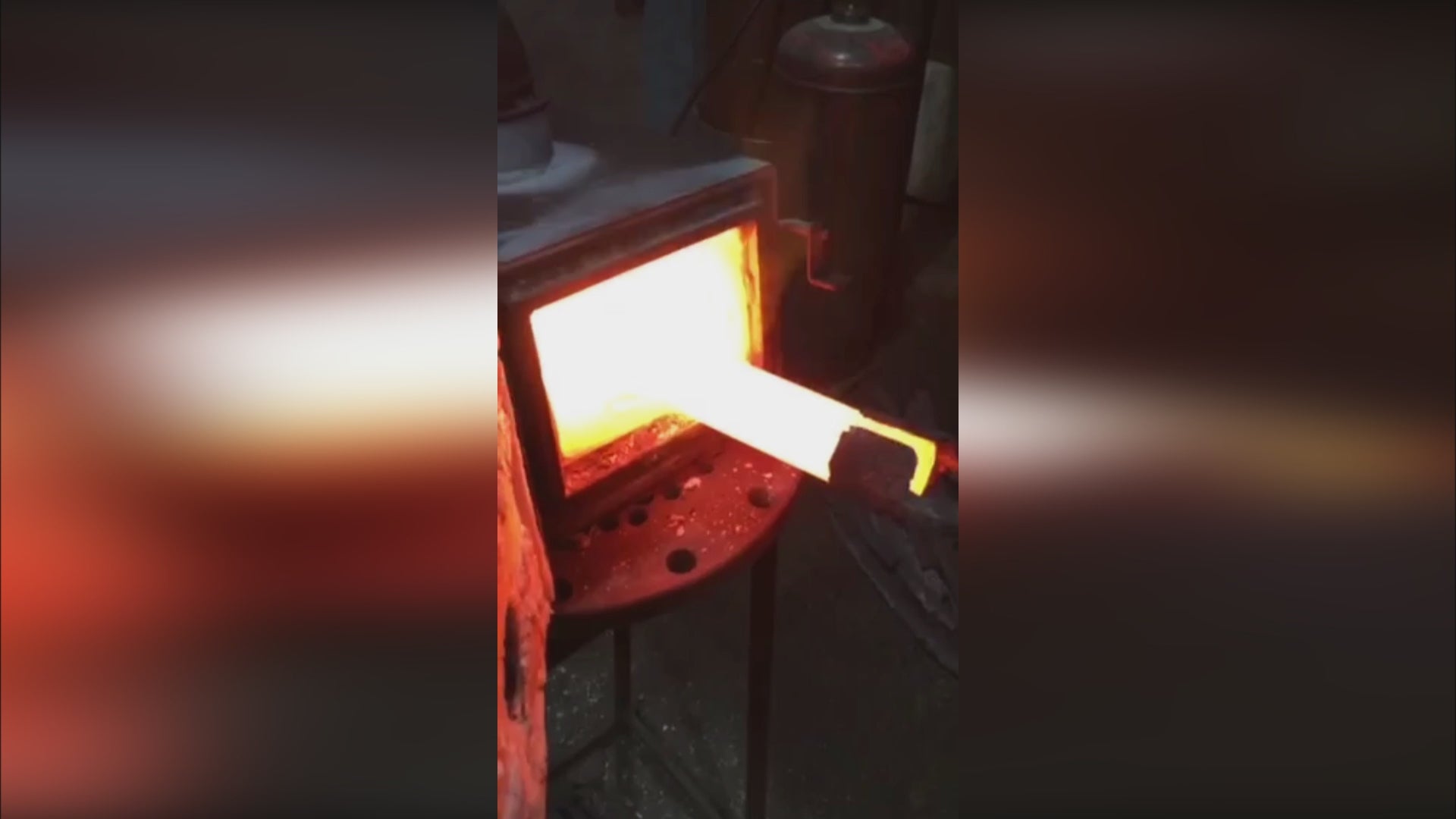 Need help?
Frequently Asked Questions
Yes, we ship all over the world. We send by DHL, Fedex, UPS, USPS and other carriers depends on country.
Shipping costs depends on weight and will be added at checkout. We run discounts and promotions all year, so stay tuned for exclusive deals.
We try to keep all products in stock in our warehouse in Ukraine and USA. The processing time usually take 1-2days. The delivery time depends on where you are. The regular delivery takes 12-21 days. Express delivery takes 5-10 days. Delivery details with tracking number will be provided in your confirmation email.
My team and I are from Ukraine. Our manufacturing facility is based in the western part of Ukraine, in a safe location. It has not been affected by the war, and we continue working. We send parcels from Ukraine and from our warehouse in the US.
By default, you'll get the same product as in the photos. Also, we offer additional engravings(text, logo, images) for an additional fee. Describe what you would like engraved in field: your personalization.
To maintain your hammer's longevity, periodically apply boiled linseed oil to both the handle and the hammerhead. It's natural for wooden handles to break sometimes. However, by oiling and being cautious with the hammer-handle connection, such as avoiding dropping it on its handle, you can prolong its life. Refrain from hitting hard surfaces with the hammer, as metal-on-metal contact can lead to dents and potentially hazardous chipping.

If the hammer's face shows signs of wear over time, you can refresh its appearance using a Trizact belt and a buffer. This will keep it looking neat and polished.